Over the last few years there has been a lot of conjecture about Leonardo Da Vinci's "The Last Supper."  Much of this conjecture stems from books of popular fiction that look for hidden codes in Da Vinci's work.  
Hey, I like a good book...but it seems that the line between fact and fiction keeps getting obscured for one reason or another.
The real secret of "The Last Supper" is that Da Vinci captures/creates the reaction of each of the Apostles the moment that Jesus says "One of you will betray me..."
(Its not really a secret..anyone who has taken a basic art history course is exposed to this fact)
Take a look at the painting with this in mind.  I think it will make your experience with the piece much richer.
Sorry...no secret codes
There are several websites that describe what reactions the apostles are having.  I've left those descriptions out so you can look at the image with fresh eyes and draw your own impressions.
Did Da Vinci get the reactions right?
Leave a comment and let me know what you think.
Here are the Apostles in Order, Left to right 
(You may notice that Da Vinci put them in groups of three)
Bartholomew, James, son of Alphaeus and Andrew 
Judas Iscariot, Peter and John. Judas is wearing green and blue (clutching a small bag).  He is the only person to have his elbow on the table. 
Jesus (of Course)
Apostle Thomas, James the Greater and Philip
 
Matthew, Jude Thaddeus and Simon the Zealot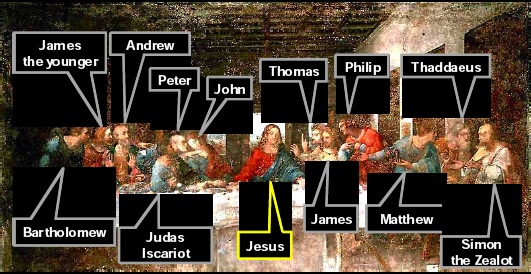 ____________________________________
Want to know when the latest blog post comes out?  Sign up for  notifications
_______________________________________
For Free Trainings checkout my Facebook Page here   
...............................................................................................
-Jason Jones
PS: Click Here to learn how I consistantly earn money* working from my laptop doing the things I love to do & empowering others to do the same!  I love what I do & I know you will too! 
 
*Not a guarantee of income.  See average earnings here:  http://ipasearnings.com